The Metabolic Health Summit 2022 weekend in Santa Barbara offered bleeding-edge science, once-in-a-lifetime connections, new business partnerships, and a heavy dose of inspiration! A variety of topics related to metabolic health were covered including ketogenic therapy, precision nutrition for cancer, Alzheimer's disease, reversing type 2 diabetes, optimizing human performance, the gut microbiome, mental health, and so much more. It is hard to put into words all the incredible experiences, education and networking that took place during the Metabolic Health Summit 2022. We collected a set of photos to remind you of the great memories and to give you a taste what you missed if you did not attend. (Photos by Kiel Rucker/Head & Heart Photography and Dr.Csilla Ari D`Agostino) The first day of the conference started with two amazing keynote talks presented by Dr. Rhonda Patrick and by Dr. Jong Rho and two presentations by the non-profits Charlie Foundation/ Beth Zupec-Kania and MaxLove Project/Audra Wilford.
The first day ended with Welcome reception, book signing and MHS Expo. During the next days we had several interesting talks about metabolic therapies for brain health, epigenetics for metabolic health and optimizing human performance, to mention only a few of the topics.
We had panel discussions about metabolic psychiatry, metabolic therapies for neurological disorders, cancer, emerging biotechnologies.
Over 50 companies presented us their innovative products in the expo section that can facilitate to comply with diets and to improve the quality of life of those who are interested in the ketogenic lifestyle or just want to improve their metabolic health. We visited the booths of some of our partners, tested lots of samples and could take home some great products as well.
Fun activities helped us to relax and recharge during and before sessions, such as morning yoga/meditation classes by CorePower Yoga Central Coast and Breathwork sessions offered by Our Breath Collective & Samuel Whiting at the front lawn of the Hilton Santa Barbara Beachfront Hotel, overlooking the ocean.
The International poster session gave an opportunity for many participants to share their valuable research on their experience working with patients, on new technologies, on preliminary results and from other countries. The Ketone Technologies Scientific Poster Award and the KetoNutrition Scientific Award were selected during this session by Dr. Csilla Ari D`Agostino and Dr. Dominic D`Agostino from many excellent applications.
There were many opportunities for networking, we had book signings and a series of interviews took place by Diet Doctor.
The VIP Mixer Took place in the beautiful round courtyard, overlooking the ocean. We had great food, live music and a lot of opportunities to discuss science and many other things.
The Gala Dinner was benefitting the non-profits MaxLove Project and The Charlie Foundation. After dinner, while enjoying our Killer Creamery ice-cream desserts, we could enjoy a unique show. The crowd was amazed by the talent and strength of the incredible duo, Iouri and Gabor , which entertainment was provided by Legendary Foods.
Award ceremonies took place during the Gala Dinner as well, Keto Awards, The Most Audacious Project Award by Audacious Nutrition and the Ketone Technologies and KetoNutrition Scientific Poster Awards were announced and celebrated as well.
A fantastic party started after the dinner to celebrate all the scientists, patients, doctors, students and all the new science and achievements accomplished since we had the chance to gather for the last time 2 years ago. And as fun surprise at the end: Audacious Nutrition offered to donate $1000 to the non-profit Charities, Charlie Foundation and MaxLove Project, if everyone would join in to celebrate. Needless to say that the crowd quickly helped to achieve this goal, the dancefloor filled up and we all danced and had so much fun until the night ended.
Dr. Dominic D'Agostino, Dr. Angela Poff, and Victoria Field sat down this week to relive some of the highlights of Metabolic Health Summit 2022. Watch the full recap below!
If you missed Metabolic Health Summit 2022, we're excited to share that you can now watch the entirety of the conference on demand! More than 40 presentations, panel discussions, and special interest forums will be available for viewing through October of 2022 for only $99! CME/CPE credits can also be claimed through July 8th of 2022. What's more – you can also download all the speaker slides and review poster session abstracts with a virtual ticket!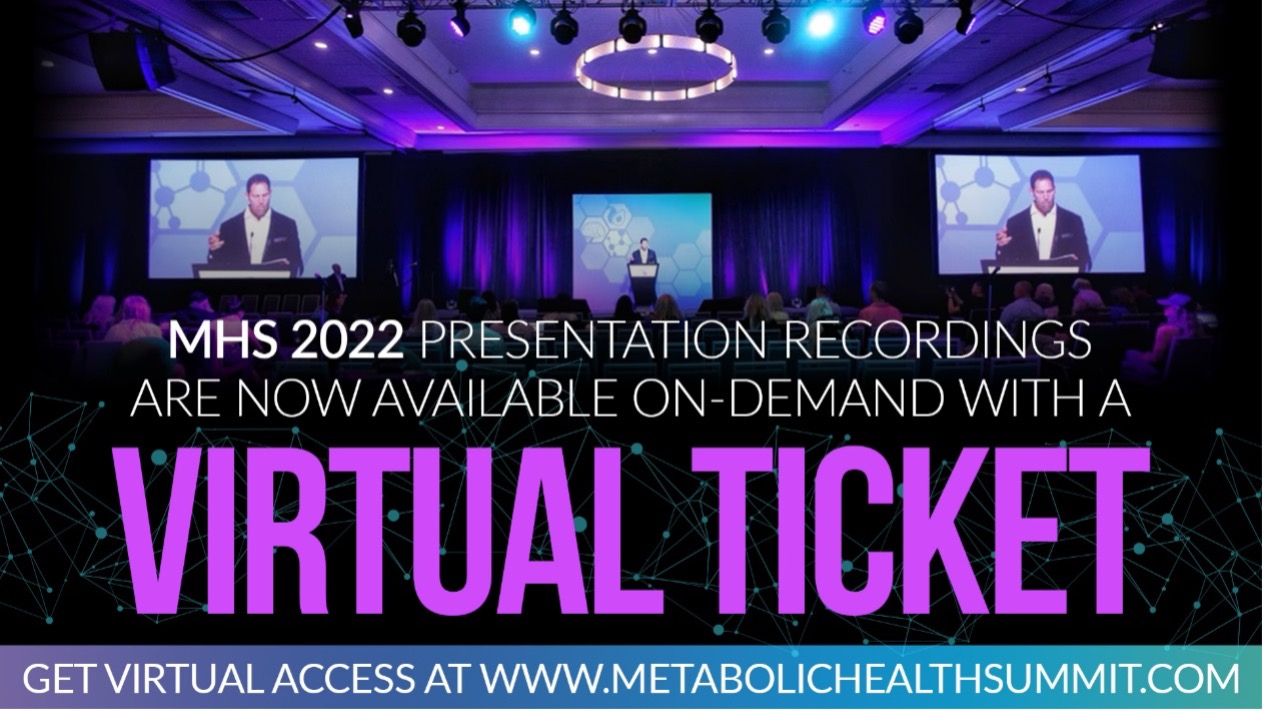 The MHS 2022 weekend offered bleeding-edge science, once-in-a-lifetime connections, new business partnerships, and a heavy dose of inspiration. The passion in the MHS 2022 ballrooms and expo was palpable. It's clearer than ever that, despite our time apart, the research fueling our field is exploding and won't be slowing down anytime soon. We're on the cusp of something BIG! Use the code MHSPARTNER at www.metabolichealthsummit.com to get 15% off of your virtual ticket while they're still available, and watch the world's leading scientific conference on metabolic health and therapy today! Click the button below to purchase a virtual ticket and gain access to the world's leading scientific conference on metabolic health & therapy for a limited time! Purchase Virtual Tickets HERE!
Written by: Dr. Csilla Ari D`Agostino and Victoria Field
Photos by Kiel Rucker/Head & Heart Photography and Dr.Csilla Ari D`Agostino)